Opened in April 2016 at the Mill complex in northern Castlemaine, the Taproom is open six days a week serving delicious beverages, yummy food and beaucoup conviviality.
SUMMER @ THE TAPROOM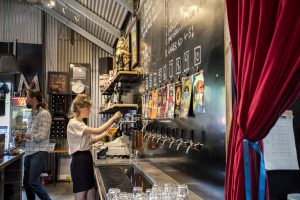 Warming up now, we're getting glimpses of good beer drinkin' weather, but it's still a bit iffy. We'll be open every day bar Monday for the forseeable. It's cosy and dry and we'll be staging a lot of events to keep you occupied and entertained.
We will be open:
Tuesday to Thursday 2pm to 8pm(ish) (sometimes a book event, trivia or Tango!)
Friday 2pm to 10pm (always music 8-10)
Saturday 12pm to 10pm (pizza all day, sometimes music 8-10)
Sunday 12pm to 8pm (pizza all day, always music 5-7)
Our fabulous house-made pizzas are available Thursday and Friday (5pm-8pm) and Saturday and Sunday (12pm to 8pm).
NOTE: We'll open as usual or longer, every day EXCEPT Christmas Day.
Nearly All

FREE

music & events in 2018/19: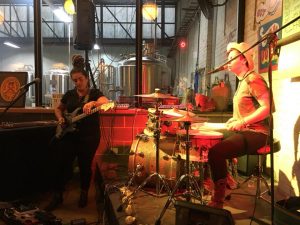 02/12 – Railroad Rex and the Hapless Brakemen from 5-7pm.
07/12 – DONE Youth Festival Beats Nite from 7-10pm.
09/12 – Peter and the Wolves from 5-7pm.
13/12 – Books at the Brewery Festive Foodie Night with Rosa Mitchell (Rosa's Canteen), Gilles Lapalus (Maidenii Vermouth) and Matt and Lentill (Grown and Gathered). Enjoy a canape and glass of wine, sample local produce, wine and vermouth and finalise your Christmas shopping at the pop-up bookshop (all books 15% off). 6-9pm, bookings essential, tickets $15, get them HERE.
14/12 – Georgia Jones from 8-10pm.
16/12 – Hugh McGinlay from 5-7pm.
19/12 – MOCKWIZ Christmas Special MAINfm fundraiser from 7-10pm.
21/12 – Rain of Animals feat. Pepita Emmerichs (Oh Pep!) from 8-10pm.
23/12 – A Very Peachey Christmas feat. Dean Peachey and friends, 5-7pm.
28/12 – Jace Rogers and Hilary Hutchinson from 8-10pm.
30/12 – Alias CANCELLED SORRY.
31/12 – NYE with KINGSTONE from 8-12pm.
4/1/19 – Kathryn Battalegne from 8-10pm.
6/1 – Scott Sanders from 5-7pm.
11/1 – JoJo Rainwater from 8-10pm.
13/1 – Kestral Knox from 5-7pm.
18/1 – Marni Sheehan and Mark Smith from 8-10pm.
20/1 – Girl Friday from 5-7pm.
25/1 – The Great Unknown from 8-10pm.
EVERY WEEK @ THE TAPROOM
Whet your whistle with one of ten beers brewed onsite, and maybe a ginger beer, raspberry mead or apple cider – on tap in pints and pots, or (best value alert!) get a tasting paddle with your choice of four for a tenner.
ON TAP THIS WEEK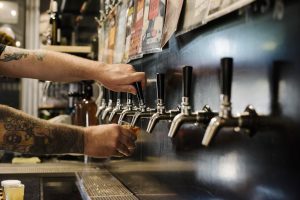 NEW BREW! Our big, bold Scotch Ale is out! We've put half of into a barrel to wood-age (come back next year…), but in the meantime it's on tap. 7.3% ABV of malty, smoked peaty goodness. $7/12 pot/pint.
The rest of the lineup is Hempathy Hemp Pale Ale, Frailty American Pale Ale, Holy Grail Cloudy Ale, Golden Ale, Espresso Black Lager, Big Red Ale, Knucklehead Rye IPA, Premium Pils Lager.
Don't fancy a frothy brew? Choose from eight local wines, bubbles, ginger beer, mead, cider and soft drinks.
WHO SAID PIZZA?
On Thursday and Friday (5-8pm) and Saturday/Sunday (12-8pm) we offer tasty house-made pizza in seven configs – 10″ for $12 and $15. Many vegetarian options, GF/vegan available too.
FIND US ON SOCIAL MEDIA!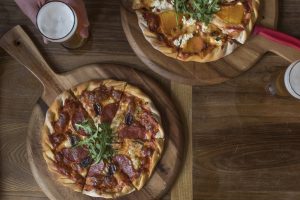 Instagram: @castlemainetaproom
Facebook: facebook.com/castlemainetaproom