Opened in April 2016 at the Mill complex in northern Castlemaine, the Taproom is open six days a week serving delicious beverages, yummy food and beaucoup conviviality.
AUTUMN @ THE TAPROOM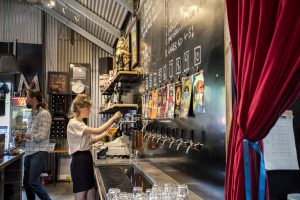 The busy festival weeks are over, we're recovering from Castlemaine Idyll –  winners are grinners at the Taproom! – but still there's plenty of beer-drinking weather around. We'll be open every day bar Monday for the foreseeable.
We will be open:
Tuesday to Thursday 2pm to 8pm(ish) (sometimes a book event, trivia or Tango!)
Friday 2pm to 10pm (always music 8-10)
Saturday 12pm to 10pm (pizza all day, sometimes music 8-10)
Sunday 12pm to 8pm (pizza all day, always music 5-7)
Our fabulous house-made pizzas are available Thursday and Friday (5pm-8pm) and Saturday and Sunday (12pm to 8pm).
(Nearly) All

FREE

music & events in 2018/19: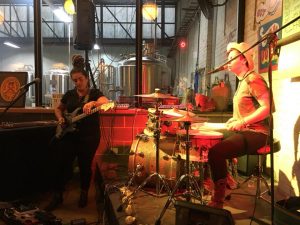 1/5  Damien Kingsbury book launch 6.30pm
3/5  Nicola Hayes and Helene Brunet 8pm
4/5  PubSing 5 – an iconic songstress gets the treatment 7pm
5/5  Connell, Thursby and Girl Friday 5pm
7/4  Meet the Election Candidates Forum 7pm
10/5  Mighty Horse 8pm
11/5   Maya Rose single launch 8pm
12/5   Railroad Rex and the Hapless Brakemen 5pm
17/5   Peter Saltmarsh & Dave James 8pm
18/5   Salsa Session 8pm
19/5   Tracey Barnett 5pm
24/5  Andrea Robertson 8pm
26/5  Hugh McGinley 5pm
29/5  Kerry Tucker book talk 6.30pm
31/5   Emily Grant 8pm
EVERY WEEK @ THE TAPROOM
Whet your whistle with one of ten beers brewed onsite, and maybe a ginger beer, raspberry mead or apple cider – on tap in pints and pots, or (best value alert!) get a tasting paddle with your choice of four for a tenner.
ON TAP THIS WEEK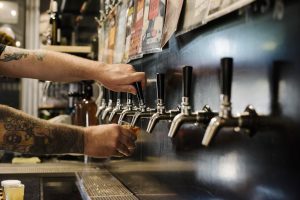 NEW BREW! HOP CROSS BEER – celebrate the pagan Spring festival on the other side of the world with a tasty beverage.
The rest of the lineup is The Night Porter, Hempathy Hemp Pale Ale, Frailty American Pale Ale, Holy Grail Cloudy Ale, Golden Ale, Espresso Black Lager, Celtic Red Ale, Knucklehead Rye IPA, Premium Pils Lager.
Don't fancy a frothy brew? Choose from eight local wines, bubbles, ginger beer, mead, cider and soft drinks.
WHO SAID PIZZA?
On Thursday and Friday (5-8pm) and Saturday/Sunday (12-8pm) we offer tasty house-made pizza in seven configs – 10″ for $12 and $15. Many vegetarian options, GF/vegan available too.
FIND US ON SOCIAL MEDIA!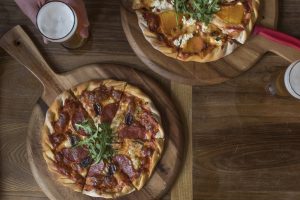 Instagram: @castlemainetaproom
Facebook: facebook.com/castlemainetaproom