Opened in April 2016 at the Mill complex in northern Castlemaine, the Taproom is open six days a week serving delicious beverages, yummy food and beaucoup conviviality.
WINTER @ THE TAPROOM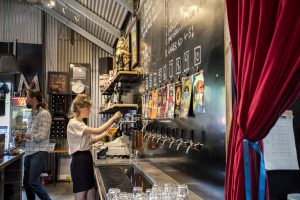 It can be cold, wet and grey in Winter in central Victoria, but the Tappy is your oasis of warmth, conviviality and tasty beverages. We'll be open six days a week with pizza four days. Salsa, Books at the Brewery and live music continue without drawing breath…
Open:
Tuesday to Thursday 2pm to 8pm(ish) (sometimes a book event, trivia or Tango!)
Friday 2pm to 10pm (always music 8-10)
Saturday 12pm to 10pm (pizza all day, sometimes music 8-10)
Sunday 12pm to 8pm (pizza all day, always music 5-7)
Our fabulous house-made pizzas are available Thursday and Friday (5pm-8pm) and Saturday and Sunday (12pm to 8pm).
(Nearly) All

FREE

music & events in 2018/19: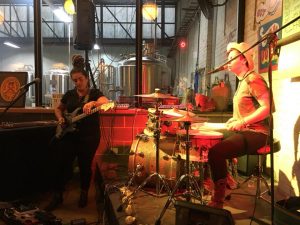 Sunday, July 28 – Ben Salter
Australia's most under-rated, inscrutable and humble songwriter, a seasoned performer of epic folk and post-colonial blues. 5pm

Friday Aug-02 – Jess + Mon
Saturday Aug-03 – Pub Sing
Sunday Aug-04 – Slim Dime
Friday Aug-09 – Slim Hope
Saturday Aug-10 – Rebecca Barnard & Billy Miller's SINGALONG.
Sunday Aug-11 – Indigo Children
Friday Aug-16 – Peter Bodin
Sunday Aug-18 – Buck Edwards
Friday Aug-23 – Chris Harold
Saturday Aug-24 – Salsa Session: Dirty Lopez
Sunday Aug-25 – Nathan Power
Tuesday Aug-27 – Books at the Brewery
Friday Aug-30 – TBC
Saturday Aug-31 – 20 Guilders (Japan)
EVERY WEEK @ THE TAPROOM
Whet your whistle with one of ten beers brewed onsite, and maybe a ginger beer, raspberry mead or apple cider – on tap in pints and pots, or (best value alert!) get a tasting paddle with your choice of four for a tenner.
ON TAP THIS WEEK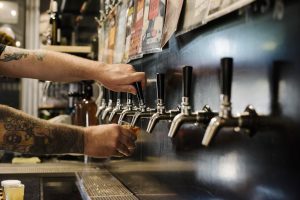 NEW BREW! – Barrel-aged Scotch Ale. After a year in oak, this brew has emerged as an absolute stunner. Big, warm and smoky, it weighs in at 8.3% ABV. Available only in a special 300ml tulip glass – $10.
The rest of the lineup is The Night Porter, Frailty Pale Ale, Holy Grail Cloudy Ale, Golden Ale, Espresso Black Lager, Celtic Red Ale, Knucklehead Rye IPA, Premium Pils Lager, Rock and Ranges Dark Mild .
Don't fancy a frothy brew? Choose from eight local wines, bubbles, ginger beer, mead, cider and soft drinks.
WHO SAID PIZZA?
On Thursday and Friday (5-8pm) and Saturday/Sunday (12-8pm) we offer tasty house-made pizza in seven configs – 10″ for $12 and $15. Many vegetarian options, GF/vegan available too.
FIND US ON SOCIAL MEDIA!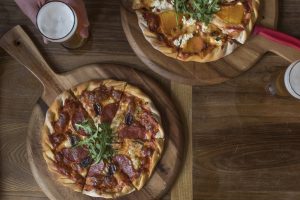 Instagram: @castlemainetaproom
Facebook: facebook.com/castlemainetaproom