Opened in April 2016 at the Mill complex in northern Castlemaine, the Taproom is open six days a week serving delicious beverages, yummy food and beaucoup conviviality.
AUTUMN @ THE TAPROOM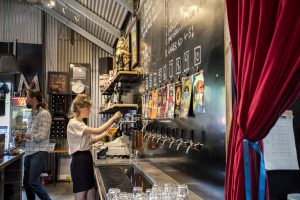 Still plenty of hot (i.e. beer-drinking) weather around. We'll be open every day bar Monday for the foreseeable. It's festival season – State Festival, Fringe Festival, Applefest, Taradale Mineral Springs, Bendigo Craft Beer Festival…the list goes on.
We will be open:
Tuesday to Thursday 2pm to 8pm(ish) (sometimes a book event, trivia or Tango!)
Friday 2pm to 10pm (always music 8-10)
Saturday 12pm to 10pm (pizza all day, sometimes music 8-10)
Sunday 12pm to 8pm (pizza all day, always music 5-7)
Our fabulous house-made pizzas are available Thursday and Friday (5pm-8pm) and Saturday and Sunday (12pm to 8pm).
NOTE: During the Fringe and State Festivals, we'll open as usual or longer, every day. We have a packed program of music, spoken word and art events. We're also a visual art venue, featuring the amazing work of Kay Abude. Kay's creative practice engages with themes of work and labour in relation to the factory and the studio as sites for production. She has worked intimately with us to produce uniforms based on research into the company's operations and history. We'll be moving pieces of art for two weeks!
(Nearly) All

FREE

music & events in 2018/19: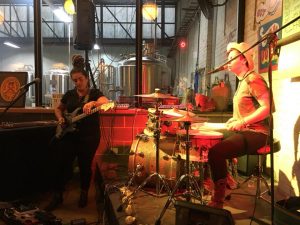 1/3/19 Raziel Gutierrez Soto – 8-10pm
2/3/19 Pubsing #3 – 6.30pm
3/3/19 Wizzpoppa 5-7pm
7/3/19 Books at the Brewery – International Womens' Day with Rachel Leary, Leah Kaminsky, Kate Richards. Tix here.
8/3/19 Blue Lucas ft. Jake Coates – 8-10pm
10/3/19 Nathan Power – 5-7pm
14/3/19 Maine Faces Exhibition Launch – 6-9pm
15/3/19 Dave Holmes Duo – 8-10pm
16/3/19 Stop that Mammoth plus Bruiser 8-10pm
17/3/19 Paperjane – 5-7pm
19/3/19 Sustainability Sessions – 6.30-8.30pm
20/3/19 Not So Trivial – trivia night fundraiser for an Iranian refugee family – 7pm. Tix $10 call 0402 474 417.
21/3/19 Comedy Gala ft. Geraldine Hickey and Peter Jones – 8-10pm, $10 at the door
23/3/19 Salsa Sessions – 8-10pm
24/3/19 Victoriana Gaye – 5-7pm
26/3/19 Books at the Brewery ft. Carly Findlay & Eliza Hull – 6.30pm, tix $10 here
followed by DJ Ali Tee spinning the good stuff from 9pm.
28/3/19 Rory McLeod – legendary musician/storyteller – 8pm, $20/15 bookings essential, tix here
29/3/19 Rebecca Barnard with Shane & Harry O'mara – 8-10pm
30/3/19 Buddy Knox – 8-10pm
31/3/19 Dirtbird – 5-7pm, followed by BROD SMITH at 8pm!
EVERY WEEK @ THE TAPROOM
Whet your whistle with one of ten beers brewed onsite, and maybe a ginger beer, raspberry mead or apple cider – on tap in pints and pots, or (best value alert!) get a tasting paddle with your choice of four for a tenner.
ON TAP THIS WEEK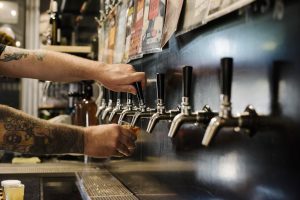 NEW BREW! "Schmilson" Lime IPA. We've put the lime in the coconut for this big IPA. 7.2% ABV of hoppy, fruity goodness. $7/12 pot/pint.
The rest of the lineup is Hempathy Hemp Pale Ale, Frailty American Pale Ale, Holy Grail Cloudy Ale, Golden Ale, Espresso Black Lager, Big Red Ale, Knucklehead Rye IPA, Premium Pils Lager.
Don't fancy a frothy brew? Choose from eight local wines, bubbles, ginger beer, mead, cider and soft drinks.
WHO SAID PIZZA?
On Thursday and Friday (5-8pm) and Saturday/Sunday (12-8pm) we offer tasty house-made pizza in seven configs – 10″ for $12 and $15. Many vegetarian options, GF/vegan available too.
FIND US ON SOCIAL MEDIA!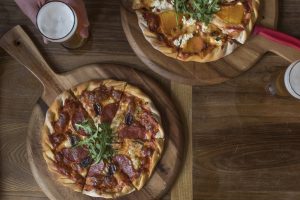 Instagram: @castlemainetaproom
Facebook: facebook.com/castlemainetaproom