Opened in April 2016 at the Mill complex in northern Castlemaine, the Taproom is open six days a week serving delicious beverages, yummy food and beaucoup conviviality.
AUTUMN @ THE TAPROOM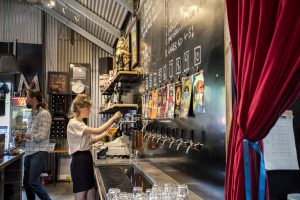 The busy festival weeks are over, we're recovering from Castlemaine Idyll –  winners are grinners at the Taproom! – but still there's plenty of beer-drinking weather around. We'll be open every day bar Monday for the foreseeable.
We will be open:
Tuesday to Thursday 2pm to 8pm(ish) (sometimes a book event, trivia or Tango!)
Friday 2pm to 10pm (always music 8-10)
Saturday 12pm to 10pm (pizza all day, sometimes music 8-10)
Sunday 12pm to 8pm (pizza all day, always music 5-7)
Our fabulous house-made pizzas are available Thursday and Friday (5pm-8pm) and Saturday and Sunday (12pm to 8pm).
(Nearly) All

FREE

music & events in 2018/19: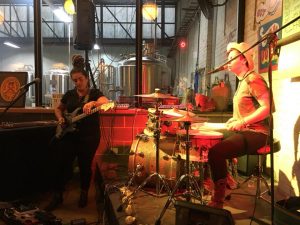 Tuesday, July 2 – Books at the Brewery presents Sue Ingleton. 6:30pm for 7:00pm
Friday, July 5 – Railroad Rex and the Hapless Brakemen
Hi steppin' alt country. 8pm.
Sunday, July 7 – Eddie Nuardo
Old-time, folk and bluegrass. 5pm.
Thursday, July 11 – Books at the Brewery presents poet, Paul Kane
Paul is an acclaimed American poet with a strong interest in Australian literature.
6:30pm for 7:00pm
Friday, July 12 – Lloyd Dodsworth
An enigmatic acoustic blend of folk, blues, pop and jazz. 8pm.
Saturday, July 13 – New Rock Syndicate
One of Japan's most exciting guitarists Masami Kawaguchi touring his latest album 'Now'.
Tickets $12.50 from trybooking.com. 8pm.
Sunday, July 14 – Salt and Steel
Tribal rockers supply foot stomping rhythms for a wild and stormy ride. 5pm.
Friday, July 19 – Scott Anderson and Rex Watts
Local pre-release preview of their forthcoming record.8pm.
Sunday, July 21 – Meredith Whittle
Indie rock with soul, guts and drive. 5pm.
Tuesday, July 23 – Books at the Brewery presents Corey White
Corey is one of Australia's most applauded comedians whose memoir, The Prettiest Horse in the Glue Factory, will have you reading into the night hoping that, against all odds, he can survive the trauma of a damaged foster care system. Corey will be in conversation with Adam Perrett. 6:30pm for 7:00pm.
Friday, July 26 – Smoke Stack Rhino
Jamming on everything from roots and reggae to prog and psych rock. 8pm.
Saturday, July 27 – Salsa session
Join teacher Camila Serrano on the dance floor at the Taproom and enjoy the incredible Latin sound of visiting DJs and live bands performing Cuban, latin and salsa classics. Each Social event will commence at 7.30pm with a dance class to help you improve your moves! $10 at the door.
Sunday, July 28 – Ben Salter
Australia's most under-rated, inscrutable and humble songwriter, a seasoned performer of epic folk and post-colonial blues. 5pm
EVERY WEEK @ THE TAPROOM
Whet your whistle with one of ten beers brewed onsite, and maybe a ginger beer, raspberry mead or apple cider – on tap in pints and pots, or (best value alert!) get a tasting paddle with your choice of four for a tenner.
ON TAP THIS WEEK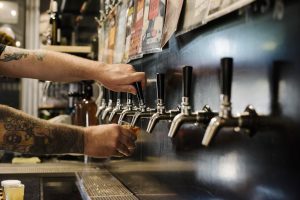 NEW BREW! Rock and Ranges Dark Mild – 3.6% ABV. A collaboration with Rock and Ranges co-op from Macedon Ranges. Our first mid-strength and it's a cracker, full of flavour.
The rest of the lineup is The Night Porter, Raisin' Toast Ale, Frailty Pale Ale, Holy Grail Cloudy Ale, Golden Ale, Espresso Black Lager, Celtic Red Ale, Knucklehead Rye IPA, Premium Pils Lager.
Don't fancy a frothy brew? Choose from eight local wines, bubbles, ginger beer, mead, cider and soft drinks.
WHO SAID PIZZA?
On Thursday and Friday (5-8pm) and Saturday/Sunday (12-8pm) we offer tasty house-made pizza in seven configs – 10″ for $12 and $15. Many vegetarian options, GF/vegan available too.
FIND US ON SOCIAL MEDIA!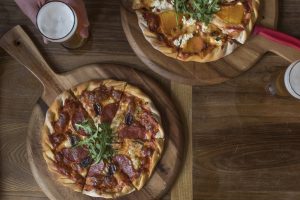 Instagram: @castlemainetaproom
Facebook: facebook.com/castlemainetaproom