Opened in April 2016 at the Mill complex in northern Castlemaine, the Taproom is open six days a week serving delicious beverages, yummy food and beaucoup conviviality.
WINTER @ THE TAPROOM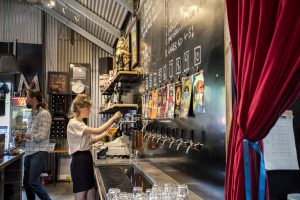 Heading into Winter now, but still good beer drinkin' weather, so we'll be open every day bar Monday for the rest of Winter. It's cosy and dry and we'll be staging a lot of events to keep your minds off the cold.
We will be open:
Tuesday to Thursday 2pm to 8pm(ish) (sometimes a book event, trivia or Tango!)
Friday 2pm to 10pm (always music 8-10)
Saturday 12pm to 10pm (sometimes music 8-10)
Sunday 12pm to 8pm (always music 5-7)
Our fabulous house-made pizzas are available Thursday and Friday (5pm-8pm) and Saturday and Sunday (12pm to 8pm).
Nearly All

FREE

music & events in 2018: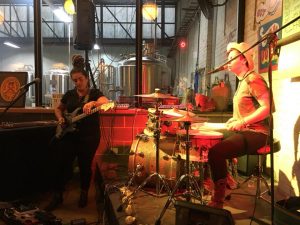 27/7 – Aplegate from 8-10pm.
29/7 – Carly Fern from 5-7pm.
2/8 – Books at the Brewery – Andrew Daddo from 6.30pm. TIX here.
3/8 – Glendy Blazely from 8pm.
4/8 – Comedy with Mark Swivel from 7pm: Alternative PM: Make Austraya Slightly Better Than Average Again. Tix $10 available at the door.
5/8 – Brooke Russell from 5pm.
8/8 – NEW! Girls on Key (monthly poetry) from 7pm.
10/8 – Moonlover from 8-10pm.
12/8 – Sean McMahon from 5-7pm.
14/8 – Books at the Brewery – Bob Murphy SOLD OUT.
17/8 – Great Aunt from 8-10pm.
19/8 – Ron S. Peno from 5-7pm.
24/8 – Railroad Rex from 8-10pm.
25/8 – Meg Corson sings Annie Lennox & Sting from 7pm.
26/8 – Hannah Blackburn/David Western from 5-7pm.
29/8 – Shedshaker Brewing Club from 6-8pm.
31/8 – Buck Edwards from 8-10pm.
EVERY WEEK @ THE TAPROOM
Whet your whistle with one of ten beers brewed onsite, and maybe a ginger beer, raspberry mead or apple cider – on tap in pints and pots, or (best value alert!) get a tasting paddle with your choice of four for a tenner.
ON TAP THIS WEEK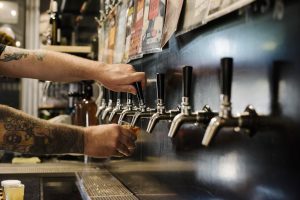 Select from 'Sounds Like Breakfast' Lager (our GABS entry this year), Hempathy Hemp Pale Ale, Frailty American Pale Ale, Holy Grail Cloudy Ale, Golden Ale, Espresso Black Lager,  The Night Porter, Celtic Red Ale, Knucklehead Rye IPA, Premium Pils Lager.
Don't fancy a frothy brew? Choose from eight local wines, bubbles, ginger beer, mead, cider and soft drinks.
WHO SAID PIZZA?
On Friday (5-8pm) and Sat/Sun (12-8pm) we offer tasty house-made pizza in five configs – 10″ for $12. Several veg options, GF/vegan available too. Two specials per weekend @ $15.
FIND US ON SOCIAL MEDIA!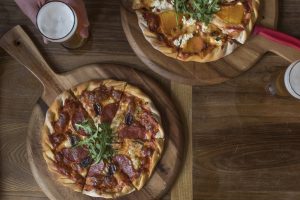 Instagram: @castlemainetaproom
Facebook: facebook.com/castlemainetaproom