Opened in April 2016 at the Mill complex in northern Castlemaine, the Taproom is open six days a week serving delicious beverages, yummy food and beaucoup conviviality.
SPRING @ THE TAPROOM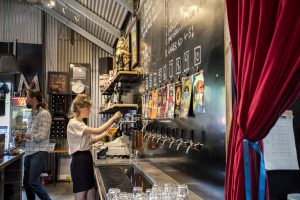 Warming up now, we're getting glimpses of good beer drinkin' weather, but it's still a bit iffy. We'll be open every day bar Monday for the forseeable. It's cosy and dry and we'll be staging a lot of events to keep you occupied and entertained.
We will be open:
Tuesday to Thursday 2pm to 8pm(ish) (sometimes a book event, trivia or Tango!)
Friday 2pm to 10pm (always music 8-10)
Saturday 12pm to 10pm (pizza all day, sometimes music 8-10)
Sunday 12pm to 8pm (pizza all day, always music 5-7)
Our fabulous house-made pizzas are available Thursday and Friday (5pm-8pm) and Saturday and Sunday (12pm to 8pm).
Nearly All

FREE

music & events in 2018: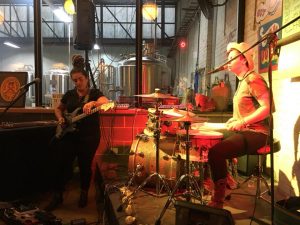 05/10 – Daniel Aaron from 8-10pm.
07/10 – Majelen from 5-7pm.
09/10 – Books at the Brewery – Mike Carlton (yes, that one) from 6.30pm for 7. TIX here.
12/10 – Monty Bevins from 8-10pm.
14/10 – Girl Friday from 5-7pm.
18/10 – MAINfm Trivia from 7-10pm.
19/10 – The Bellwethers from 8-10pm.
21/10 – Moodswing from 5-7pm.
26/10 – Tracey Barnett from 8-10pm.
28/10 – The Hornets from 5-7pm.
EVERY WEEK @ THE TAPROOM
Whet your whistle with one of ten beers brewed onsite, and maybe a ginger beer, raspberry mead or apple cider – on tap in pints and pots, or (best value alert!) get a tasting paddle with your choice of four for a tenner.
ON TAP THIS WEEK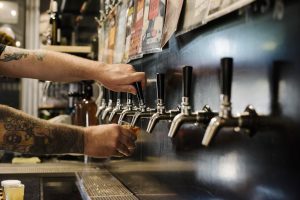 NEW BREW! Our big, bold Scotch Ale is out! We've put half of into a barrel to wood-age (come back next year…), but in the meantime it's on tap. 7.3% ABV of malty, smoked peaty goodness. $7/12 pot/pint.
The rest of the lineup is Breakfast Lager, Hempathy Hemp Pale Ale, Frailty American Pale Ale, Holy Grail Cloudy Ale, Golden Ale, Espresso Black Lager, Big Red Ale, Knucklehead Rye IPA, Premium Pils Lager.
Don't fancy a frothy brew? Choose from eight local wines, bubbles, ginger beer, mead, cider and soft drinks.
WHO SAID PIZZA?
On Thursday and Friday (5-8pm) and Saturday/Sunday (12-8pm) we offer tasty house-made pizza in seven configs – 10″ for $12 and $15. Many vegetarian options, GF/vegan available too.
FIND US ON SOCIAL MEDIA!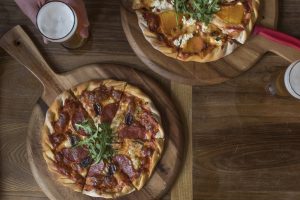 Instagram: @castlemainetaproom
Facebook: facebook.com/castlemainetaproom