LOT 19 SPRING SCULPTURE SHOW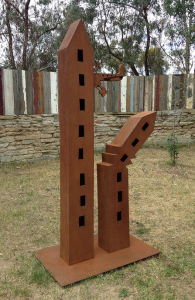 It's Spring, and that means it's time for the best little annual art show around. Shedshaker runs the bar, and sponsors a prize every year. Last year we awarded it to Jimmy Rix for his Twin Towers (left) which, while eliciting quite an emotional reaction for us, also looked the most like our shed.
Come on down on Saturday October 13 from 2-5pm for the launch (say hi to Doug and Jacqueline), or from 12-5 every Saturday and Sunday from 13/10-28/10.
BENDIGO ON THE HOP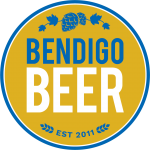 The Good News? The biggest and best mid-winter beer festival is on August 25 this year. The festival is spread over 10 venues in the heart of the CBD of Bendigo, all within a handy 1km area in the historic main streets. It's run by our friends at Bendigo Beer, as dedicated beer enthusiasts as you'd ever hope to meet.
The Bad News? It's sold out!
If you were one of the 2000 lucky enough to score tix, you can find us at GPO in Pall Mall where you can sample our Fantale Ale and Holy Grail Cloudy ale. Say Hi to Jacqueline and Doug and the SS team on your merry way to sample 44 beers from 22 brewers.
Friday August 3rd is the tenth
International Beer Day!
"But every day is beer day!" we hear you cry, and we can but agree.
However, someone felt the need to have an Actual Day, and we would be churlish to ignore it.
So we are celebrating the Day by opening up the brewery and sharing our love of the froth with you, the beer-loving public.
The day kicks off at 12 midday.
PARTICIPATE
Early birds (12-1pm) get to participate in our Flash Mob Brew – a tribute to the 
great Australian sweet – by helping us to make the FANTALE ALE. Get hands on with the core ingredient and taste it at every stage of the brew. It will always be a little bit yours!
EXPERIENCE
Tutored tastings of all our beers

Our first Beer Boot Sale – 20% off six packs and slabs at the brewery door

The launch of the Shedshaker Beer Club – rewards, merch, special offers

Pizza from 5pm

Live music with night, Owl Hollow (Glendon Blazely) from 8pm